An Our Lady Seat of Wisdom official says the College hopes to build a good working relationship with Madawaska Valley council, as it applies to convert a newly purchased building into a "Religious Educational Facility."  
This, after two councillors were critical of the College at a recent meeting. 
An application to rezone and re-purpose a house at 156 Lakeshore Dr. drew scorn from Councillors Mary Blank and Shelley Maika.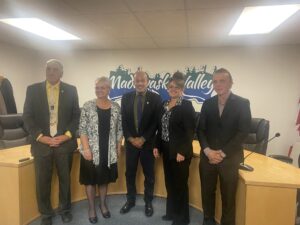 Blank, upon hearing that the facility would also house about 16 students, said she felt the building would be too cramped. She declared she wouldn't support the application, if that's the case.  
Maika said she felt the College's recent purchase of the building reduces the amount of housing available to Barry's Bay residents, and limits Madawaska Valley's revenue. She pointed out that the building will no longer have a regular municipal tax bill, since the College is a non-profit.   
"You can't come into the town and start buying up houses and decide to change things and not pay taxes," she said, at the meeting. "That is not fair. It's not fair for residents in this town. It's not fair for the municipality." 
The College's Vice-President of Administration, John Boskill, said he didn't take offence to the criticism, noting that the current council was only elected last year and the College needs time to build a relationship with it.  
He says he's invited councillors to tour the new building and the College is working with the Fire Department to make sure the building is deemed safe.  
He also said the College never intended to pose a negative impact on the town's housing supply, saying the eight buildings it owns were purchased gradually over time.  
Tuesday's meeting was for information purposes and council is expected to vote on the application at a later meeting.  
Boskill says the College hopes to have the facility approved in time for the upcoming school year.  
 MyBarrysBayNow reached out to both councillors after the meeting. Blank declined to offer further comment. Maika said her opinions have not changed since the meeting, but expressed she is willing to work with the college.