After years of effort, the St. Francis Herb Farm finally has a new location.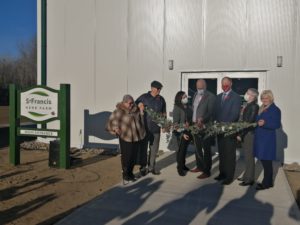 A ribbon-cutting ceremony was held on Wednesday at their new location on Lane Street in Barry's Bay. The event was attended by Renfrew Nipissing Pembroke MP Cheryl Gallant, MPP John Yakabuski, and Madawaska Valley Mayor Kim Love. Members from the County of Renfrew, as well as many local and large businesses, were also in attendance.
CEO Paul Rivett-Carnac said he was "on cloud nine" during remarks at the ceremony. He says the expansion has been a long time coming and was years in the making. Although the location is open, the company is still completing the move. Rivett-Carnac says once things settle down, they will look at what is next for the business. He expressed his thanks to the community, saying the project happened due to a lot of people beyond St. Francis. Rivett-Carnac says he and staff look forward to contributing to the local economy.
The new location will consolidate five different warehousing and production locations owned by the Herb Farm. Rivett-Carnac says putting all the facilities in one single floor location will help with communication and collaboration. He also says the increased space will help them expand manufacturing and allow them to acquire new equipment.
An open house will happen on location on Saturday, November 13th from 11 AM until 2 PM.