30 Years Of Memories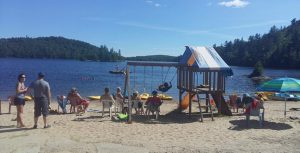 All it took was one look.  One look onto Spectacle Lake for the Mahussier's to realize they were home.  After that first look, 30 years of Memories, Friendships and a true sense of Community was built.
Sharon Mahussier and the wonderful staff at Spectacle Lake Lodge look to make your stay as enjoyable as possible 11 months a year. (They are Closed through November)
The view is spectacular.  It's one of the many reasons why Spectacle Lake Lodge hosts weddings and receptions, special functions, family birthdays, Anniversaries and many large celebrations.
Through the years, Spectacle Lake Lodge have given back to the community with sponsorships of local youth sports teams, aiding in the funding of youth academics programs, and supporting other local businesses.  After many years of working together, Sharon is proud to call most of the business owners in Barry's Bay friends rather than business associates.
Many visit to ride the trails on their A.T.V's or Snowmobiles, depending on the season.
But the real joy is knowing that your visit can include experiencing the Spectacle Lake Lodge along with many of Barry's Bay's local attractions and many more seasonal activities.  There's never a dull moment from beautiful sunrise to sunset.
And when dining, there is no better experience than The Lakeside Smokehouse.  Many culinary students have honed their craft in this very kitchen.  Along the way, each head chef has left their influence on the next, but with change comes new ideas and creations that you can order from the menu. The Lakeside Smokehouse is ready to serve Lodge guests and locals every day of the week, at fair prices.  Even the Chinese Food Buffet is an event to be experienced.  Ask for the next Chinese Food Buffet date at the time you are making your reservation.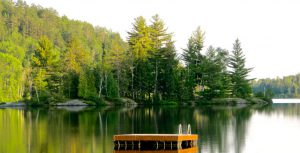 It's the hope that everyone who visits Spectacle Lake, falls in love with the scenery, the nature and the community, just as the Mahussier's did 30 years ago.
It was the goal of Sharon's late husband, Maurice, to be a resort owner at the age of 45.  He set his goal. They lived their dream. An exciting, beautiful dream Sharon continues to share with any visitor to Spectacle Lake Lodge today.
Come see for yourself.  You're sure to return again, and again…    and again.
So make your reservation at Spectacle Lake Lodge in Barry's Bay.
Call Toll Free 1 800 567 4044.  Or email any reservation or information inquiries to [email protected]
---

Spectacle Lake Lodge
P.O. Box 328, Barry's Bay, Ontario. Canada, K0J 1B0
Toll Free: 1-800-567-4044
Local: 613-756-2324
​Fax: 613-756-7669
GPS: N 45* 31.760 W 77* 51.679 Elevation 1,262 Ft
Website: www.spectaclelakelodge.com
Reservations: [email protected]
---